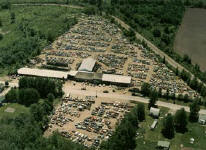 Gary's Auto Parts Inc. is an automotive recycler that has been family owned and operated since 1972. We have a very professional staff that is eager to help in fulfilling your auto parts needs. We specialize in recycled car and truck parts. We also carry new parts such as fuel tanks, radiators, windshields and tail lamps.
---
Our Mission
To provide the best possible service on the highest quality recycled auto parts at a fair price while protecting our environment.
---
Contact Information
Gary's Auto Parts has one store conveniently located to better serve you. Our store hours are 8am-5pm Monday-Friday and Saturday 9am till noon, however we are closed Saturday's from Memorial Day to Labor Day.. We have a nationwide toll-free phone number where we can be reached during business hours at 1-800-962-8150 or you can E-mail us at sales@garysautoparts.com. Please call for the fastest response.
Telephone

Local 315-363-2240
Nationwide 1-800-962-8150



Postal address 651 Fitch St.,
Oneida, NY 13421 USA

General Information: info@garysautoparts.com
Webmaster: Webmaster